About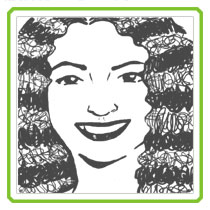 The creative mind behind Deeya Design is Reem Fattouh. For as long as she can remember, Reem has put crayon, pencil, pen, marker, and pretty much any other writing implement to paper.
Reem was born and raised in Windsor, Ontario and still has many of her school notebooks that are filled not only with class notes, but doodles as well. "I probably drove my teachers crazy," she says with a smile, "but I always paid attention, and I made sure the good teachers got a drawing at the end of the year for their trouble."
After high school, Reem enrolled in the Communication Studies program at the University of Windsor. There, among the theory and the essay-writing, she found a new passion: filmmaking. "It was another way to draw out my creativity. I loved storyboarding too, naturally."
But it wasn't until Reem graduated and registered for the Advertising - Business diploma program at St. Clair College that she discovered her talent for digital media. "Our teachers thought it was important for us to learn HTML and web design as part of our marketing curriculum. I showed a natural talent for coding and my teachers noticed."
As part of the program, students were required to complete a month-long internship. That's when Reem's teachers offered her placement at a multimedia company in Windsor. There, she spent not only a month, but the next five years honing her skills as an information architect in the development of CD-ROMs and websites. About working closely with both programmers and graphic designers, she notes, "That experience really provided me with a well-rounded approach to web design, from a technical as well as an aesthetic perspective."
After getting married in June 2004, Reem moved from Windsor to Stratford and left her job behind. In 2005, she spent eight months working at a digital media firm in London, learning new skills but feeling unfulfilled as part of the technical team. "I didn't get to have as much hands-on experience in the graphic design process." When her contract expired, Reem decided it was time to re-evaluate her career path.
The natural choice was to embark on her own. It took a lot of encouragement from family and friends, but Deeya Design was finally born in the spring of 2006. "Deeya is the Arabic word for 'lights'. It made sense to give my company a name that reflects both my heritage and the natural relationship between light, colour, and design."
Deeya Design already has clients in the Greater Toronto Area and the Capital Region. Reem has prospects in the rest of Canada as well and is looking forward to helping clientele all over the country and beyond.
Reem currently resides in Sudbury, Ontario, with her husband, two cats, and the unruliness of her curly hair.